Podcast: Play in new window | Download (Duration: 1:06:52 — 61.2MB)
Connect with the Investor Mama Tribe
Looking for ways to boost your income? Check out these resources to help you with your money journey.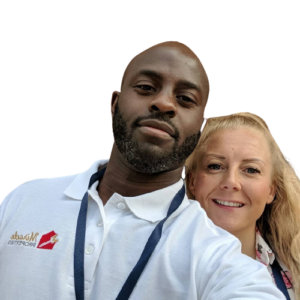 Bio
Emelie and her fiance live in Sweden with their two kids. They run an out-of-country real estate investment company in the UK, remotely from Sweden. With two little ones and still working full time, managing to scale their business in the UK requires three things, planning, commitment, and execution!
Lightning Round
1. What is one fun fact about you that not that many people know?
When I was a kid, I was very into soccer. That's the thing in Europe. We do soccer here and I was really into soccer. I played and I thought it is a Brazilian footballer. His name is Ronaldo.  thought that I was gonna marry him, I was so in love with this man. It was crazy.
2. Who inspires you the most and why?
My mom. She's such a super strong woman. She went through so much in her life and she has her own accounting firm. She has four kids. She was a superwoman when I was growing up just building her own company and having us small kids and going to our soccer practice and then working at night just to have her company.
I also have to say, my to-be husband, my fiance he's a Superman. He goes hard for us. He does and it's an inspiration. He also helps me keep myself motivated and that's a very good thing to have in life. When I feel like I can't do that today, he's the one that is, yep you can, and you will. He pushes me to go harder and he does 110% more than I do. He's my hero.
3. What books are you reading now or have read and loved that you'd recommend?
How to Win Friends and Influence People by Dale Carnegie
4. What is one actionable tip or piece of advice that you can tell our moms out there to help them on their financial independence journey?
The most valuable tip I can give is "do it". I think that's the tip that everybody needs that are moms because we've we often are like, yeah, I'm going to start, but right now the kids are taking this time or I need to do this and this and this, but just start.
It doesn't matter what you do, but if you want to do something, just start. Even if it's just for half an hour, a day. You can make half an hour available for your dreams. You can make half an hour available to have more time with your kids down the line.
Additional Resources
Connect with Emelie