Podcast: Play in new window | Download (Duration: 53:26 — 48.9MB)
Connect with the Investor Mama Tribe
 Looking for ways to boost your income? Check out these resources to help you with your money journey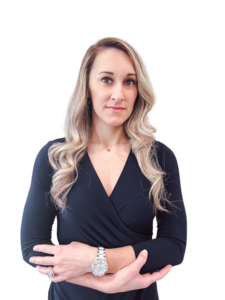 About
Ali is the Managing Director of Waldron's Wealth Planning Department, where she develops and implements comprehensive, goal-based wealth planning strategies for our clients.
For more than 12 years, Ali has been helping entrepreneurs and their families simplify their financial lives. After earning a Marketing and a Management Information Systems degree from Marietta College, she earned a Master of Business Administration from Florida Atlantic University.
Lightning Round
1. What is one fun fact about you that not that many people know?
Prior to working in financial services, I worked in college in professional athletics. I had a cool background where I worked in college athletics, in facilities, and operations. I side-hustled a lot when I was in grad school and one of the coolest jobs I've ever had was working for the Miami Dolphins Organization in their event group and we got to coordinate the jet flyovers at the football games.
2. Who inspires you the most and why?
Definitely my kids. I think a lot of people come on here and say they're kids, but they truly make me want to be a better person and make the world a better place through their eyes.
3. What books are you reading now or have read and loved that you'd recommend?
Raising Good Humans: A Mindful Guide to Breaking the Cycle of Reactive Parenting and Raising Kind, Confident Kids by Hunter Clarke-Fields MSAE, Carla Naumburg PhD, et al.
The 21 Irrefutable Laws of Leadership by John C. Maxwell
We Should All Be Millionaires: A Woman's Guide to Earning More, Building Wealth, and Gaining Economic Power by Rachel Rogers
4. What is one actionable tip or piece of advice that you can tell our moms out there to help them on their money journey?
I think with social media especially, comparison is the thief of joy. Social media makes it seems like everyone is an overnight success, that everybody is making a million dollars, and if you're not, your complete failure. I think that comparison is a thief of joy. Block that kind of stuff out. Work with a trusted professional that's going to help tailor goals to your family and what's important to you. Roll with that because comparing your journey to other people is never a good thing.